PACK OUT AND EXPLORE
Our all-around t-slotted frames provide you with the ability to organize your gear with endless configuration possibilities. Everyone packs for adventure differently, Pack Out Campers allows you to have a spot for all your adventure necessities.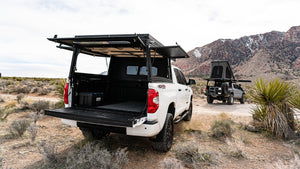 MOUNTING POINTS
The camper is constructed with t-slotted Aluminum extrusion so you can mount your gear just about anywhere. Mount gear directly on the frame, or mount our Expedition Cross Bars for more gear hauling.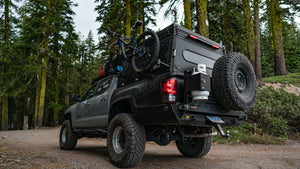 WE CARE ABOUT YOUR OTHER TOYS
When you're venturing out and the road gets rough, carrying your toys on the side eliminates having to worry about departure angle and scraping whatever load is on your hitch mount. Mounting on the sides of the camper can also lessen the dust and mud your tires kick up on your gear when compared to mounting at the rear.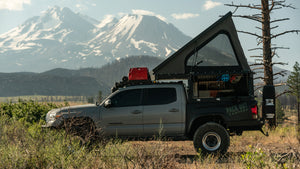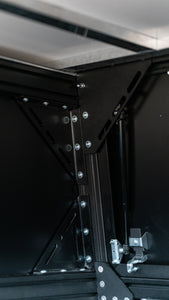 THE GUSSETS
Our structural support gussets are made out of 3/16 inch laser cut/bent steel, attached to the structure with 10.9 grade bolts. The gussets are powder coated for optimal weather protection and overbuilt to withstand rigorous trails.