STANDARD FEATURES
T-slotted frame structure for maximum mounting points
Lockable gull-winged doors on passenger, driver, and rear sides
Gas strut assisted bed platform
Mid-size truck sleeping platform: 92" x 49"
Full-size truck sleeping platform: 92" x 55"
3 in thick high-density foam mattress
Three huge tent windows with separate zippers for the door and bug mesh
Free gull wing gas strut upgrades
Free roof gas strut upgrades
Camper color: Black
Camper Weight: 355-400lbs (Depending on truck model)
2 Year Limited Warranty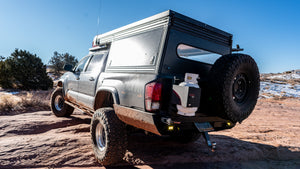 T-SLOTTED FRAME
Our all-around extruded frames can be utilized to mount accessories. Just pick a spot to drop in the t-nuts and you're ready to bolt your gear down.
TENT
The windows were designed to be wide to allow for maximum viewing of your picturesque destinations.
For winter season, we offer a detachable insulation kit, that can be easily removed when summer comes around.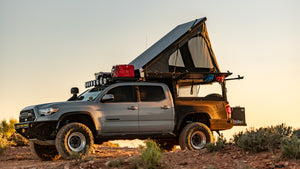 BED PLATFORM
With the gas strut assisted floors, you never have to make your bed!
Lift your bed out of the way with your bedding and pillows in place. Just give the panels a little lift and let the gas struts do the rest.
The floorboards are split to allow for entry through the smaller board without lifting the bigger board.